FREE SHIPPING ON ORDERS OVER $75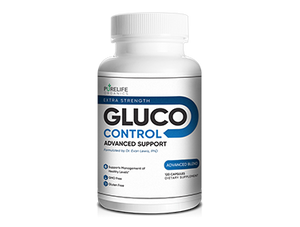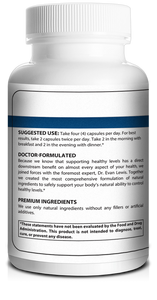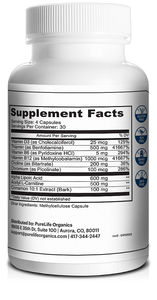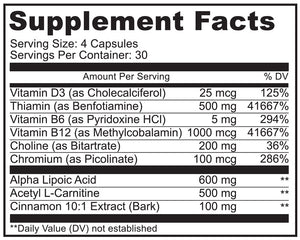 Pre-Meal Nutrient Ritual To Naturally:
• Avoid frightening blood sugar spikes and get your blood sugar under control
• Regain control over your metabolism and speed it up naturally
• Eliminate pain and dangerous nerve issues that come with consistently high blood sugar
• Experience stable, all-day energy levels without crashing or fatigue
• Feel satisfied after meals and not have those dreaded sugar and carb cravings
• And ultimately turn back the clock on your ability to eat the foods you love, do the things you love, and feel younger, from head to toe
Because we know that maintaining healthy blood sugar levels has a direct downstream benefit on almost every aspect of your health, we joined forces with the world's foremost expert, Dr Evan Lewis. Together we created the most comprehensive formulation of natural ingredients to safely manage healthy blood sugar levels.

This pre-meal ritual takes just seconds and works to transform your blood glucose levels, setting the
stage for mental clarity, all-day energy and reduced pain. All while helping you look and feel years younger.

Simply take 2 capsules twice daily before meals. NOTHING works better than this "pre-meal ritual" of natural ingredients for boosting critical levels of nutrients needed to support your healthy blood
sugar levels while eliminating deficiencies that
result in cravings, crashes and nerve pain.

Risk-Free For 60-Days
Our small team is so confident that you'll love your results that we give you 60 days to try our products out. If you are not 100% satisfied, then send back the bottle (empty or not) for a stress-free full refund. This is our ironclad promise, a 100% money-back refund even if the container is completely empty. No questions asked
Natural Pre-meal Nutrients To Balance Your Blood Sugar, Reverse Nerve Pain, Eliminate Post-meal Crashes And Cravings, And Even Boost Your Metabolism
Dr. Evan Lewis is on the front lines, clients overcome their blood sugar scares. And as a clinical research scientist he's spent over 10 years researching nerve health, regeneration and natural blood sugar management.
When it comes to blood sugar and neuropathy, he's seen horror stories beyond what you'd imagine in your worst nightmare, including loss of essential body functions (like eyesight)... loss of limbs... even loss of life.
He also discovered that many of the conventional approaches used by the medical establishment to deal with blood sugar management can cause more harm than good.
Which is why he has devoted his career to finding the ultimate natural solution to achieving healthy blood sugar levels in your body. And the results speak for themselves in the form of our highly acclaimed GlucoControl formulation.
Our Ingredients
Chromium
When Harvard University studied 51,529 men over an 8-year period — they found that those with chronic heart and blood sugar issues had 46% less chromium than men without those issues.
In another study, researchers found that 200-1,000 mcg of a special form of chromium found in GlucoControl—a form that's almost impossible to get in your diet—helped restore healthy insulin sensitivity and create far greater blood sugar control.
And if you're suffering any nerve pain related to blood sugar issues you'll be happy to learn that, "the administration of chromium can reverse manifestations of severe neuropathy and nerve conduction abnormalities." That's the conclusion of a recent meta-analysis collecting evidence from 28 separate clinical studies.
Cinnamon
Turns out, cinnamon can be much more than just a tasty spice you add to oatmeal…
There is an entire treasure trove of research demonstrating that the right form of cinnamon has a beneficial effect on glucose and insulin levels.
What's even more interesting is that cinnamon has been proven to have a very beneficial effect for individuals suffering from peripheral neuropathy (PN).
A meta-study published in 2010 by the authoritative Journal of Diabetes and Technology, established that Tristetraprolin — a key protein contained in cinnamon acts as a potent regulator of the inflammatory response and can be effective in supporting healthier levels of inflammation.
The same study established that cinnamon had beneficial effects on glucose, insulin, insulin sensitivity and other important health measures including... cholesterol and lipids, antioxidant status, lean body mass, and much more.
Vitamin D3
Also known as the "sunshine vitamin," technically Vitamin D3 is actually a hormone. And unless you sunbathe every day, the odds are HIGH you are not getting enough Vitamin D3. Because the fact is that it is extremely difficult, almost impossible, to obtain sufficient quantities of vitamin D3 from food alone.
A growing body of evidence suggests that vitamin D deficiency, which most people suffer from (so much so, that the WHO considers vitamin D deficiency a pandemic), to be a significant factor in the onset of blood sugar issues.
A ground-breaking study followed more than 83,000 women for a duration of 20 years and found that a combined daily intake of calcium plus Vitamin D led to a 33% reduction in the risk of developing severe blood sugar challenges.
Another study with 712 subjects demonstrated that Vitamin D deficiency was significantly correlated with insulin sensitivity and beta-cell function (beta cells are the cells which produce and secrete insulin).
Alpha-Lipoic Acid
This powerful antioxidant has an extraordinary ability to provide relief for people suffering from the nerve pain and burning that can eventually strike those who are dealing with irregular blood sugar.
One study analyzing 1,258 neuropathy patients, who were given IV shots of alpha-lipoic acid over 3 weeks, showed a significant decrease in levels of pain, burning and numbness after just three days and throughout the duration of the study!
Another study demonstrated that oral administration of alpha-lipoic acid provided substantial benefits, especially in reducing sensations of burning pain.
Benfotiamine
Benfotiamine is a highly special form of thiamine, which is in the B vitamin family.
A study conducted in 2005 demonstrated that administration of benfotiamine led to a statistically significant decrease in pain associated with blood sugar-related nerve pain.
And yet ANOTHER research study showed that benfotiamine can help prevent cardiac issues that often arrives as a side-effect of blood sugar-related problems.
Acetyl-L-carnitine (ALC)
ALC is used by your body to regulate how your body fat is used to produce energy. Research has shown that ALC also helps to prevent AND relieve pain that comes standard with blood sugar-related nerve issues.
A meta-analysis of 14 clinical studies on the effects of ALC on patients with neuropathy, covering a total of 1,590 patients. Study after study proved that patients "showed significant reductions in both the neuropathy symptom score and neuropathy disability score."
To put it in plain English, ACL relieved the symptoms and the pain felt by the participants who were afflicted by neuropathy and not given a placebo.
Vitamin B6
Many People are B6 deficient because it gets depleted by stress. B6 is involved in more than 150 metabolic processes within your body. What is less well-known is that vitamin B6 and blood sugar challenges are linked to each other in a vicious, catch-22 type cycle.
Certain studies have shown that reduced levels of B6 can lead to an inability to control your blood sugar. And other findings also established that chronically elevated blood sugar can contribute to the decrease of Vitamin B6.
The problem is, humans are not able to synthesize vitamin B6. So if your diet doesn't contain enough of it (most people's diets do NOT), then you MUST get the right form of B6 via supplementation.
Vitamin B12
Dr Lewis' research has revealed that a substantial 64% of the participating patients suffering from blood sugar-related nerve pain were found to be deficient in vitamin B12.
In fact, Vitamin B12 is so important that the American Diabetes Association now recommends routine measurements of Vitamin B12 levels in patients taking medication.
Choline
Declared an essential nutrient by The Institute of Medicine in the late 90's, most of us are NOT getting enough choline from our diet. In fact, according to a National Health and Examination survey, up to 90% of American adults are not getting enough choline in their diets.
Choline is integrally involved in liver and brain function, muscles, nervous system and metabolism. In one study, measuring choline intake for 2,394 adults, researchers have shown that the higher your choline intake — the better your fasting glucose and insulin levels become.
Money Back Guarantee
Risk-Free For 60-Days
Our small team is so confident that you'll love your results that we give you 60 days to try our products out. If you are not 100% satisfied, then send back the bottle (empty or not) for a stress-free full refund.
This is our ironclad promise, a 100% money-back refund even if the container is completely empty. No questions asked.
Contact Us
Hey Chantale,
Thank you for your wonderful review. Please check your inbox for a private message from us.
Regards
Payal
Customer Support
Satisfied
Satisfied, I've been using this product for just about a year my numbers stay below 120. Watch what you eat late at night don't consume a lot of sugar and carbs and you'll be pleasantly pleased with your A1c.
Thank you Lisa for taking the time to review us and provide such a valuable feedback. We are so glad to know that the product is working for you and you can see great results. Please check your inbox for a private message from us.
Regards
Customer Support
Thanks a ton Serigo for rating our product. We are glad the product is helping you.
Regards
Customer Support
GlucoControl Supple
It has been several months now since I started on GlucoControl. However, what i am seeing now is just great. My daily blood tests are now in the low 120's and even lower. This product really works. Just need to give it a little time.
Hi Jeff,
We are so glad to know that Gluco Control is working for you. It is heartening to see your patience with the product and how the product has helped your blood sugar levels. Please check your inbox for a small token of appreciation from our end.
Thanks
Payal
Customer Support
Life Altering
The product seemed to have an immediate effect as I stopped getting tingling in my feet and seems to really help keeping weight off.
Hi Jim,
We are so glad to know that the product has been a life altering experience for you and you are happy with the product. Please feel free to get in touch with us for any queries or further feedback.
Regards
Customer Support