HOW TO MAKE VEGAN KALE SOUP (W/ IMMUNE BOOSTING GREENS & SPICES)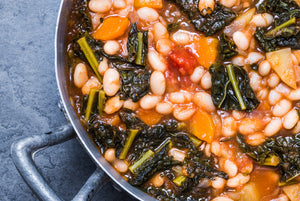 Power greens are a vital part of your diet, and this soup is guaranteed to give you a hefty dose!
What are "power greens", you ask?
Simply put, they're any nutrient-dense leafy green that's rich in vitamins, minerals, and antioxidants.
Spinach and kale are at the top of the list, but chard (both red and green) and rapini (broccoli rabe) are also included. All are incredibly packed with nutrients, intense flavor, fiber, and antioxidants.
And they make one hell of a delicious soup!
We've got a tasty soup recipe below that will give you a lot of nutritional value, but most important of all, it will boost your immunity.
Not only will the power greens give you a hefty dose of immune-boosting Vitamin C, but you'll find the mushrooms we added into the kale soup are all guaranteed to pack an immune-reinforcing punch.
Try this soup, and you'll feel the benefits to your immune system—and digestive system—almost immediately!
Immune-Boosting Vegan Kale Soup
For this recipe, you will need:
4 cups of kale 

Bonus: 1-2 cups of assorted "power greens" for added flavor

100 grams of shiitake or maitake mushrooms

1 can of cannellini beans

1 quart of low-sodium vegetable broth

Garlic

Onions

Celery

Olive oil

Lemon

Spices, salt, and pepper
Preparation:
To begin, dice three cloves of garlic, three stalks of celery, and one whole onion. Dice them very finely, and add them into a hot stock pot with two tablespoons of olive oil in the bottom. 
Cook the aromatics until they are slightly soft and very fragrant. Add in a pinch of salt, pepper, red pepper flakes, thyme, and oregano.
Pour the broth into the pan and stir the aromatics into the stock to open up the flavors. As the liquid is heating, open and drain the can of beans and add it into the soup. For extra texture, mash some of the beans as you stir them, so you get a thicker, almost stew-like consistency from the soup. Bring the liquid to a boil, add in the mushrooms, then turn it down to let it simmer for 10 to 15 minutes.
The last step is mixing in the power greens and kale. Squeeze in the lemon juice, add in the greens, and let the soup continue cooking until the veggies and mushrooms are fully softened. 
You'll see the power greens begin to wilt, and that's when they're ready to serve!
What Makes This Soup So Healthy? 
Let's take a look at some of the ingredients, and find out why they're so great for your immune system:
Kale – As you know, kale is loaded with Vitamin C, the nutrient that your body needs in order to raise your internal immune defenses. It's also an amazing source of folic acid, as well as dietary fiber, chlorophyll, and antioxidants. Basically, it's a nutrient powerhouse that delivers a hefty dose of your daily requirements in a number of micronutrients.
Mushrooms – Both shiitake and maitake mushrooms are loaded with dietary fiber and micronutrients. However, it's their ability to boost your immune system that makes them truly amazing for your health. Shiitake mushrooms deliver B vitamins and a lot of the antioxidant selenium, and is known to enhance your immune system to the point of making your internal defenses more effective at fighting off cancer. Maitake mushrooms can actually increase white blood cell production and activity, helping your body deal with infections better on its own.
Cannelini Beans – All legumes are excellent for your health, thanks to their high fiber and protein content. Cannelini beans, in particular, are rich in fiber, iron, and folate, along with the magnesium that plays a critical role in your immune health. These beans can help to regulate blood sugar levels, increase satiety, and moderate your appetite. Plus, they make the soup SO delicious!
Low-Sodium Vegetable Broth – Cutting back on sodium helps to lower your blood pressure and prevent water retention. Opting for vegetable broth means your soup is still vegan and healthy, but without losing that delightful broth flavor that is central to a great soup dish!
Aromatics – Celery is loaded with dietary fiber and minerals that can boost your immunity. Onions are rich in Vitamin C, zinc, sulfur compounds, selenium, and other immune-boosting nutrients. They're also loaded with quercetin, an antioxidant and flavonoid that has both anti-histamine and anti-viral properties. Garlic is loaded with allicin, a compound that boosts the disease-fighting immune response of your white blood cells. Basically, it helps your body to more effectively combat disease and infections from the inside out.
All incredibly simple ingredients, but when you combine them into one soup, they make for an amazingly effective immune booster! 
You'll find that this soup is an excellent meal all on its own, or a wonderful side dish to have on those cold winter days when you want to warm up and boost your immune system.
Our Immune Boost Alternative
If you're looking for more ways to raise your immunity, this soup is definitely going to be an excellent choice, thanks to its high nutritional content and immune-boosting ingredients.
But why not add ANOTHER excellent option: a supplement designed specifically to boost your health!?
Pure Immunity is a supplement that packs all of nature's best immune-boosting superfoods into one marvelous product. It combines the power greens, mushrooms, botanicals, and prebiotic superfoods to help your body protect itself from the inside out. 
The supplement is made with 23 organic superfood ingredients that will strengthen your immune response, detoxify your body, reduce stress, prevent aging, and enhance your mood and focus. It's concentrated natural awesomeness that will ensure your body has everything it needs to keep you healthy and strong.