HOW TO MAKE A GREENS SMOOTHIE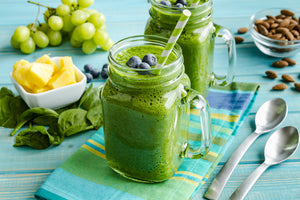 Get ready to rock those green smoothie recipes! 
Green smoothies are some of the fastest healthy foods you can eat. Not to mention incredibly easy.
Seriously: all you have to do is throw a few ingredients into the blender, add some ice (to make it cold), and hit the "blend" button. In a matter of seconds, you go from hungry to gulping down a delicious, highly nutritious smoothie that'll keep you full for hours to come.
It's the super-dish that just keeps on giving.
Below, you'll find everything you need to make the perfect green smoothie that is as tasty as it is healthy!
Start With the Greens
This is the most important part: the greens!
The veggies you use for your smoothie are where you're going to get all the nutrients from, so they're the ingredient that you should add the most of. Everything else is just there to serve as the vehicle to deliver you that high dose of minerals, vitamins, and fiber present in your greens.
What greens should you use? 
Spinach

 is an easy veggie to blend into your green smoothies. It's not so strongly flavored that it drowns out other tastes, but it's packed with amazing nutrients. 
Kale

 is a bit of a harder sell, thanks to its stronger flavor. You'll probably end up mixing it with stronger-tasting juices to avoid the high bitterness.
Avocados

 have a really soft, gentle, creamy flavor, and they make any smoothie richer and thicker. It pairs divinely with lemons—making for a creamy lemonade—but can go with just about any tropical fruit or even coconut.
Celery

 

has a natural bitterness that is hard to overlook, but it pairs beautifully with apple juice. It's also incredibly rich in fiber, which makes it an amazing veggie to add into your smoothie.
Romaine lettuce

 may sound like an unusual ingredient, but you'll find that it's got a beautifully light flavor that makes it easy to work with.
Collard greens

 

have intense flavors (like kale), but that inherent bitterness can actually make for quite an interesting combination of flavors with the right fruits and liquid base.
Swiss chard

 is dark and intense in color, but the flavor is only slightly stronger than spinach. It's an easy replacement for spinach, and it will make your smoothies incredibly nutritious.
Choosing your greens is the most important part of the smoothie-making process. Always start with choosing the greens you're going to use, then build the flavor profile outward from there by adding the right liquid base and sweet fruit. 
Move On To the Base 
The first component of your smoothie is always the liquid base. You've got a few good choices for a low-calorie, high-nutrient green smoothie:
Water

 

– This is an easy go-to that contains ZERO calories and won't affect the flavors of your other added ingredients. 
Coconut Milk or Water

 – If you want things to be a bit more flavorful than plain water, coconut water has a delightful taste to it. If you're going for creamy tropical taste, coconut milk is a great choice. 
Fruit Juice

 

– Fruit juice can make pretty much any veggie taste good, which is why it's the most popular addition to any green smoothie. However, be warned: fruit juice does contain A LOT of sugar (hence the sweetness). Even freshly made juice (produced in your own juicer) will contain all the sugar with none of the fiber that slows down sugar absorption. Consider diluting your fruit juice with water so you get enough sweetness without overdoing it on sugar.
Milk or Yogurt

 – Not your typical go-tos when it comes to green veggie smoothies, but they're a solid option if you're thinking rich, filling, and higher in protein.
Add a Hint of Sweetness
The greens bring the nutrients, but a truly great green smoothie has some sort of fruit or berry mixed in.
Fruits can mask the flavors of intense greens, or they can help to soften the bitter flavors inherent in stronger-tasting veggies like kale or celery.
Some great fruits to use for your green smoothies include:
Bananas

Apples

Mangoes

Pineapples

Melons

Watermelons
Berries are an amazing source of antioxidants and fiber. You'll definitely love how they taste, and they'll give a lot of dark color to your smoothie.
Go for a Bonus: Powdered Goodness
There are two types of powders you should consider adding into your smoothies:
1. Superfood powders. For those who have a hard time getting enough veggies into their diet, green superfood powders can deliver a massive dose of nutrients in a single smoothie, giving you all the micronutrients you need in one shot. Or you can try spirulina and other antioxidant-rich superfood powders that will give you the polyphenols and catechins your body needs to fight off free radicals.
2. Protein powder. If you're having a smoothie as your post-workout meal, adding in a bit of protein powder can be a great way to increase the nutritional value of your green smoothie. There are a number of fruit-flavored protein powders, as well as flavorless powders that mix well with anything. Or, you can go for stronger flavors—like chocolate or strawberry—that will mesh with the flavors of the veggies you're working with for a more delicious powder.
PureLife is proud to introduce a THIRD option of powder you can add into smoothies: an immune-boosting supplement that will make your smoothies taste like chocolate shakes! It includes 23 of nature's top enhancing superfoods.
Pure Immunity is our solution to help you raise your immune response and fight off diseases, all in a natural, delicious supplement that you can add into your smoothies. You'll find that it's an amazing enhancement to your daily food intake and will give you the micronutrients your body needs to raise your internal defenses.