4 SUPERFOOD SHAKES THAT WILL SKYROCKET YOUR IMMUNE RESPONSE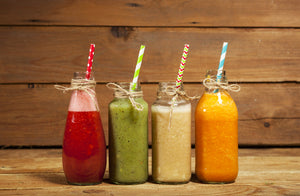 Try these superfood shakes to give your immunity the jump-start it needs!
Shakes and smoothies are an amazing addition to any healthy diet.
Not only are they quick to prepare and easy drinking, but they're also an excellent way to sneak more fruits and vegetables into your diet.
You'll find that you can put just about anything into a shake or smoothie, and with the right ingredients, you'll love drinking even the foods you weren't too fond of before.
Best of all, your healthy food will become wonderfully delicious!
Below, we've compiled a few of our favorite superfood shakes that will help to pack not only a nutrient punch, but deliver a hefty dose of immune-boosting nutrients to ensure your body is protected from disease.
Chocolate Walnut Smoothie
Walnuts are an amazing food! Not only are they rich in dietary fiber and healthy fats, but they also contain zinc. Zinc is one of the most important minerals for a healthy immune system, one that is often deficient from our diets. By adding walnuts—and, of course, pumpkin seeds—to your smoothie, you'll give your body the zinc boost it needs to raise your immune system.
This is a simple smoothie, but one that will help get your immunity back on track. You'll love its rich, creamy, nutty flavor every time!
Ingredients:
1 cup of almond milk

½ cup of regular milk

¼ cup of walnuts

¼ cup of pumpkin seeds

Unsweetened cocoa powder

1 tablespoon of honey
Throw all of these ingredients into the blender, including just a little bit of regular milk to give your smoothie a creamy flavor. Blend well, add ice to chill, and enjoy! It will taste a lot like a chocolate peanut butter mix, but far healthier!
Orange Spice Shake
Oranges are one of the best sources of Vitamin C, which your body needs to boost its immune response and repair damage caused by infection, pathogens, and free radicals. Basically, it's one of the most critical nutrients for your body, and an amazing immune booster.
But that's not all this shake contains! We're adding carrots for extra Vitamin C as well as Vitamin A, which will improve your eye health. We've got ginger, too, which will help to soothe your stomach and protect your respiratory tract from infection. With just a hint of turmeric, you can boost your metabolism and decrease your cancer risk. This is definitely one of the healthiest smoothies you can eat, not to mention one of the tastiest!
Ingredients:
3 whole oranges

1 whole carrot

A 1-inch piece of ginger

½ teaspoon of turmeric

1 cup of Greek yoghurt
Squeeze the juice of the oranges into the blender, and add in the other ingredients along with half a cup of water and some ice cubes. Blend until everything is nicely mixed together—you'll find it comes out as a rich, creamy consistency that is absolutely delicious.
Green Immune Booster Smoothie
Greens are some of the best immune-boosters on the planet. Kale and spinach are both loaded with Vitamin C, along with iron, calcium, folic acid, and other nutrients vital to maintaining a healthy immune system.
To really maximize the benefits of this smoothie, we're mixing in kiwi fruit, which contains twice the Vitamin C you get from oranges. A little bit of mango and pineapple give it a marvelous sweetness that will make you want to drink this delicious smoothie every day of the week!
Ingredients:
1 cup of frozen or fresh spinach

1 cup of frozen or fresh kale

1 cup of kiwi fruit

½ cup of frozen mango

½ cup of frozen pineapple

1 ½ cups of water
Add all of the ingredients into the blender, set to puree, and enjoy the smooth, icy consistency of this divinely delicious tropical green smoothie.
Chocolate Superfood Smoothie
On the days when you want something a bit more decadent and dessert-like but don't want to compromise your diet, this is the shake you'll want to eat. It's rich, creamy, thick, and has all the flavor that you look for in a dessert, but it's also incredibly rich in immune-boosting nutrients!
Banana gives it its thick texture, the raw cacao delivers a punch of flavonoids that will raise your immunity, and the natural fats in the almond butter and flax seeds will help to keep your body functioning properly. However, it's the immune-boosting ingredients in our Pure Immunity supplement that will really maximize the benefits of this smoothie.
Pure Immunity is made with all natural and organic ingredients, high-quality superfoods formulated to raise your immune function with a massive dose of critical nutrients like Vitamin A, Vitamin C, Vitamin K, folate, iron, zinc, niacin, magnesium, Vitamin E, and a host of B vitamins. It's an antioxidant-rich supplement that is guaranteed to deliver the high-quality nutrients that your body needs to protect itself from infection.
Best of all, it's got a rich chocolate flavor that makes for one heck of a delicious dessert! Include it into this smoothie, and it will feel like you're having an absolutely wonderful chocolate pudding—but it'll just be a very healthy drink.
Ingredients:                           
1 scoop of Pure Immunity superfood powder

1 frozen banana

½ tablespoon of raw cacao

1 tablespoon of flax seeds

1 tablespoon of natural almond butter

1 tablespoon of maple syrup

½ cup of almond milk

½ cup of regular milk
Pour all of the ingredients into the blender and mix well. You'll want to store the smoothie in the fridge for half an hour to chill and let it set. You'll find that it comes out in a thick, pudding-like consistency that is absolutely delicious. Enjoy cold and prepare for a major immune boost!